Our Vision
Islamic Literacy is a web-based educational platform that allows Muslims to take courses on Islamic topics with high-caliber teachers. The goal of Islamic Literacy is to make Muslims Islamically literate.
Based in the U.S. Instruction available worldwide.
Shaykh Rizwan Arastu
Founder of Islamic Literacy
3,996
students in total and counting
12 years in operation. Over 48 courses offered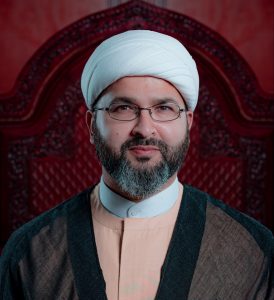 Students from US, UK, Canada, Dubai, Tanzania, South Africa, India, Iran, Philippines, Germany, Australia, Nigeria, Pakistan…
Shaykh Rizwan Arastu
Shaykh Rizwan Arastu is a graduate of the Islamic Seminary of Qum and Princeton University. He is the founding director of the Islamic Texts Institute, a non-profit aimed at making Islamic sources accessible to non-specialists. He is also the founder of Islamic-Literacy.org, a web-based educational platform that aims to help all Muslims become Islamically literate. He lives with his wife and six children in Elgin, IL.
Sayyid Sulayman Hassan
Sayyid Sulayman Hassan was born and raised in Western New York where he attended both school and college. While still in high school, he would attend classes in Arabic and fiqh at the Hawza Ilmiyya in Medina, New York, after which he attended the University of Buffalo and received a bachelor of science degree in business administration in 1997. Immediately after graduating from college, he went to Qum, Iran, to study at the Hawzah. In Qum, he soon studied the standard texts taught within the Hawza and proceeded to the advanced study of fiqh, during which time he also taught several of the standard Hawzah texts and translated several books and articles into English. Sayyid Sulayman holds a PhD from the University of Chicago. He is the co-imam at the Imam al-ʿAṣr Mosque. He is a long-standing board member of the Islamic Texts Institute and a content editor for ITI's publications. Sayyid Sulayman currently resides with his wife and three children in Virginia, where he continues to study and teach.
Shaykh Mohammed Al-Saadi
Shaykh Mohammed was born and raised in the United States and is a graduate of the Islamic seminary (ḥawzah) in Najaf, Iraq. He has a bachelor's degree in Communications with a double emphasis in Electronic Media and Speech from the University of Michigan where he also minored in Philosophy and completed his Pre-Medical requirements. Shaykh Mohammed Al-Saadi is the co-founder of Shield Families, a non-profit organization dedicated to assisting Muslims living in the West in starting, building, and sustaining devout families dedicated to the service of God through offering programs catering to the different stages of family development While in the US, he resides in Dearborn Heights, MI where he continues to research, while also serving various communities, focusing on family and community development.
Ustadhah Fatemah Meghji
Ustadha Fatemah Meghji is based in her hometown, Vancouver, BC, on unceded First Nations Territories. She received her BA in English Literature and Religious Studies from the University of British Columbia in 2010. After graduating from UBC, she studied at Jamiah al-Zahra in Qum, Iran from 2011 to 2016, and recently completed her MA in Qur'anic Exegesis & Qur'anic Sciences. Her research interests include the Qur'an, its exegesis, ethics, and contemporary social issues, especially the struggles of women in modernity.
Ustadhah Hiba Hassan
Hiba Hassan is an educator with two decades of experience working with children, adolescents, and adults. She holds a bachelor's and master's degree in education from Eastern Michigan University. She is a lifelong learner and has taken many courses on Islamic Literacy. She currently teaches Qur'anic Arabic and Islamic studies, and she has taught Basic Arabic Reading on Islamic Literacy. She is particularly passionate about mentoring youth. Sister Hiba, her husband, and their three daughters reside in Plymouth, Michigan.
Sayyidah Israa Safieddine
Sayyidah Israa Safieddine is a teacher and educational consultant from Michigan who specializes in Islamic instruction and educational training. She has conducted a range of educational workshops in various locations. A graduate of the University of Michigan, she earned an MA in public administration with a focus in assessment and evaluation. She also studied at Jami`atul Zahra in Qum, as well as al-Qaem Institute in the US. She was an instructor at the Hawza Ilmiyya of England (2016 – 2018) and is a founding member and instructor for WIE (Workshops for Islamic Educators). At present, she coordinates and runs educational and interfaith activities for Risalat International Institute.
Ustadhah Maryam Sarrafee
Maryam Sarrafee was born in Washington, DC, and grew up in Northern Virginia. After graduating from George Washington University with a degree in International Affairs, she joined her husband in Iran in 2004, where she attended classes in Qur'an and Islamic studies at the Hawzah in Qum. She obtained a Master's in Education from Roosevelt University in 2012. She is a mother of three and lives with her family near Chicago, Illinois.